Homemade chocolate chip cookies are a staple in our home, like milk and eggs and cereal.
Give me 45 minutes and I will give you a warm-from-the-oven, award-winning chocolate chip cookie. I bake them so often that I don't need a recipe. Kind of like those two weird scientists who have memorized the Coca-Cola recipe…my killer cookie recipe is embedded in my brain.
Last Saturday night, my husband decided to bake a batch, ALL BY HIMSELF. Now, he is a very successful executive at a fortune 500 company…but I can only remember him making cookies one other time. The year was 1987. I was newly pregnant with our third child and couldn't stand the thought of any food. He doubled the butter in the cookies and they ended up looking as flat as pancakes. Flatter than pancakes. More like crepes.
So, twenty years later, I was very encouraged to see him try again.
I only stopped him when he started to add three tablespoons of baking powder when the recipe called for three teaspoons of baking soda. Other than that, I didn't interfere.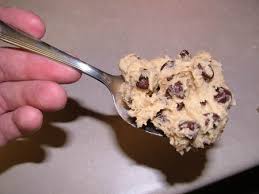 It took him two hours to make the batter. Then, he set the oven timer for 12 hours instead of 12 minutes. Somehow, even with an oven mitt, he burnt himself. He yelped like a coyote whose leg was caught in a trap.
But, three hours and sixteen dirty dishes later, Steve baked some cookies that were…pretty darn good!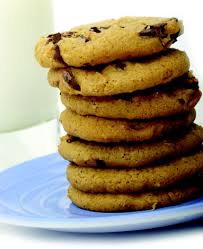 And those sixteen dishes are still in the sink.