Welcome to Author Spotlight! Each week will feature a different author. We'll get the scoop behind their writing life and dish a little. The authors will also be giving away a copy of their latest books. FUN.
The winner from last week's Author Spotlight with Susan May Warren is Pattie R. My assistant will be in touch for your mailing address.
This week we welcome Ann Shorey. To win a copy of Ann's latest release, The Promise of Morning, leave a comment on this post!


Share a little bit about yourself. Married with kids? Empty nester? Do you work full-time and write when you can squeeze it in?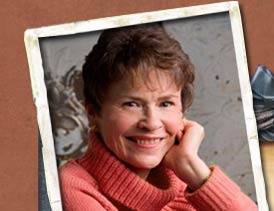 My husband and I are empty nesters. We live on a country property in southwestern Oregon. We're surrounded by wildlife—deer, quail, turkeys, pheasants, squirrels, and the occasional bobcat and coyote. Although we don't raise livestock, our neighbor runs cattle on his acreage, so we get to watch calves in the spring. Our dog loves to run up to the fence and bark at them. (Not sure how much our neighbor loves that, though!)
And share something about your writing. What's your genre(s), your areas of interest…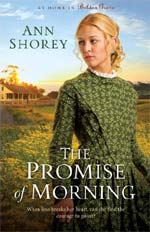 My genre is historical fiction, and not surprisingly, that's my area of interest as well.
How did you get started writing? Did you have a dream of being a published author?
I started by writing articles, then in the late 1990's wrote a narrative family history drawn from ancestors' memoirs dating back as far as the 1680's. Reading those memoirs spurred me to write historical fiction, inspired by my female ancestors' lives.
After you started writing seriously–how long was it before you were published?
I was published in the Chicken Soup for the Soul and Adams Media Cup of Comfort series, but it took seven years of working and learning before my At Home in Beldon Grove novel series was published by Revell.
Aside from a cup of good, strong coffee, what helps you get all of your "brain cylinders" firing so you can write well? Do you have any favorite places and routines when you write? How many hours a day do you spend writing?
Coffee is my main brain fuel—if any of your "bleaders" have suggestions for something else to add to that, I'd love to hear about it. I write in my home office, surrounded by shelves and stacks of reference books. Usually I try to spend three to four hours a day writing. The big challenge is keeping the email turned off.
What has been the biggest help to you in the journey to publication? Writers' conferences? Writing groups? Your mom as your first draft reader?
I'm a big promoter of writers' conferences. I met my editor at a conference in 2007, and have met many wonderful fellow writers who have become friends and mentors. Additionally, conferences offer a wide range of workshops and continuing education sessions, all of which taught (and continue to teach) me much about the craft.
Is the "writer's life" what you thought it would be?
I've been surprised by how much time I need to spend on the marketing end of writing. It goes way beyond book signings. An author in a recent issue of a writer's magazine said something to the effect that every word written in a blog is one less word written in your novel. I find that to be true.
What are your biggest distractions?
E-mail, by far! Then things that need cleaning around the house, watering the yard, and my husband popping in and out of the house during the day. Oh, wait. It's his home, too. Forget that last part.
What was one of the best moments in your career and what was one of the worst?
The best moment had to be hearing that Revell was offering me a three-book contract for the At Home in Beldon Grove series.
One of the worst was receiving a one-star review on Amazon for my newest release, The Promise of Morning, right after the book came out. Talk about demoralizing. Fortunately, the good reviews eventually buried the unkind comments.
What is the role and importance of an agent?
My agent serves as the go-between with my publisher and myself. It's a blessing to be able to ask her questions about the business so I don't look like a dummy in my publisher's eyes. She also been a prayer partner when difficult things have come up in my life.
In today's market, an agent is most important, since many of the biggest publishers no longer want to see unagented material (except at conferences!).
What's on the book horizon for you?
I'm currently in the process of readying Book 3, The Dawn of a Dream, for its release in April of 2011. Additionally, I'm working on an idea for another series, this one to be set in Missouri immediately following the Civil War.

Last question, how can readers find you and your books?
Readers can visit my website at www.annshorey.com. By clicking on a link on the Novels tab, they can order my books through Amazon.com, Christianbook.com, or several other online book stores. The books are also available through major brick and mortar book retailers as well as your local Christian book store.

Thank you for sharing your writing life with my bleaders! (blog + readers = bleaders)
Thank you for inviting me. It's been a pleasure.