Tune in on Thursday at 4:00 pm Central! To listen in – go here and just click on the player in the top right corner.
This week's show is a little different, we'll be discussing a topical issue and having our expert panel weigh in. Today's topic is "Who Are the Anabaptists?", and joining our panel Erik Wesner, Sherry Gore, Ira Wagler, and Mary Ann Kirkby. Not sure of the differences between, Amish, Old Order Amish, Mennonite & Hutterite? Well, tune in and have all your questions answered.
More about our panel:


Erik Wesner: Erik is the author of the popular blog "Amish America." During the interview we chat about
Erik's book, Success Made Simple, and about Amish businesses. Since 2004, he has visited 20 Amish communities in five states, and met roughly 5,000 Amish families in total.
As the 2008 Snowden Fellow at the Young Center at Elizabethtown College, Erik delivered a lecture entitled "Is Success a Four-Letter Word? The Amish Approach to Business Achievement".
Erik has contributed to Amish-themed articles featured in Entrepreneur Magazine, The Wall Street Journal, The Washington Post, and other print media. He's have also served as a consultant for numerous authors of Amish fiction and non-fiction.
Sherry Gore: Sherry Gore is the author of Taste of Pinecraft….Glimpses of Sarasota Florida's Amish CultureandKitchens. She's a writer/food reviewer for the Pinecraft Pauper, Florida's first Amish newspaper, and a scribe for her community for the National Edition of The Budget. She co-hosted the Pinecraft Writer's Presentation in Florida with Professor Emeritus Richard Stevick, author of Growing up Amish; the Teenage Years.
She is a year-round resident in Sarasota, Florida, the vacation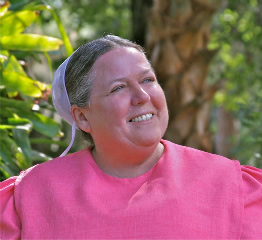 paradise of the Plain People, and is a member of a Beachy Amish Mennonite Church. She is currently chronicling the adventures of everyday life of the Plain people in Pinecraft for the second edition of Taste of Pinecraft, due to be released 2012.
This mother of three, and full-time caregiver of her twenty-year-old daughter, loves to swim in the Gulf of Mexico, as she attempts to combat her pathological fear of sharks. It is her life-long dream to ride in the Oscar Mayer Wiener Mobile.
She is the non-resistant owner of a double barrel shotgun with an affinity for pie. She learned the hard way one spring day not to wear Chap-stick while driving an open buggy behind a shedding horse. Find out more about Sherry at her website: http://www.sherrygorebooks.com/.
Ira Wagler: Ira Wagler was born and raised in an Old Order Amish community surrounded by family, farms,
horses and open spaces. Ira writes about his family and experiences with honesty, respect and compassion. His decision to leave was, as is the case with others, a moment of great anxiety and freedom. Words, books and knowledge were a part of the Wagler household – Ira simply wanted more. He entered college as a non-traditional student and there discovered literature and writing. He was deeply affected by Thomas Wolf's "You Can't Go Home Again." Though his career has taken him in other directions, including management and law, he never lost his passion for narrative and writing. After some personal hardships, Ira decided to seek solace where he had found freedom in the past, in words. Three years ago, he started a blog. Initially posting weekly, he began to give words to the largely oral stories and traditions of his childhood with the intention of weaving them into a book. Visit his blog here: http://www.irawagler.com.
Mary Ann Kirkby: Mary-Ann Kirkby was born on a Canadian Hutterite colony near Portage la Prairie,Manitoba. One of nine children, Kirkby was raised in the Hutterite tradition, similar in some respects, to that of the Amish or Mennonites. At age10 her life was turned upside down when her parents abruptly left behind the comfort and security of the colony and relocated their family to a lonely farm house in the "English" world. The transition to a startling fast-paced society was overwhelming for a young Mary-Ann as she clashed head on with popular culture.
Growing up in the isolated self-sustaining Hutterite community of Fairholme Colony, Kirkby had little contact with the outside world.
A primarily agricultural community dominated by male leadership, Kirkby's childhood dreams included a happy marriage with healthy children, good food, strong friendships and a deep devotion to her unique way of life. Those dreams where shattered when her parents packed up their large family and moved to a new world, full of unknowns.
Thrust into a foreign universe that she didn't understand, Kirkby worked hard to adapt to a new way of life and a new identity by abandoning the culture that had defined her. She struggled to reinvent herself by denying her Hutterite heritage in an attempt to avoid the stigma and cruelty associated with being different.
A graduate of the National Broadcasting Institute Kirkby made her way into the world of journalism as a news anchor and reporter. She was the senior reporter responsible for aboriginal issues at CTV in Prince Albert, Saskatchewan and worked in Ottawa for several years as a freelance journalist and as Media Relations Consultant for the National Chief of the Assembly of First Nations. The recipient of two Can-Pro Awards, Kirkby has made a career of telling other people's stories. She is gifted singer, a sought after speaker and member of the Canadian Association of Professional Speakers.
Finally embracing her role as a daughter of two cultures Kirkby has used her talents to chronicle her own life story. Her first book, "I Am Hutterite," was published in Canada in 2007 and will be released in the U.S. by Thomas Nelson Publishing in May 2010. The book has garnered rave reviews as readers react to the Kirkby's honest and compelling story told in her charming style. "I Am Hutterite" won the Saskatchewan Book Award for Best Non-Fiction in 2007.