Dreams Coming True is a Thursday feature on my blog, a way to highlight those whose goal is to create community. The dream might be a blog, a published book, a small business, volunteering, or even fundraising for a charity. Something that makes the world a better place . . . for others.
"Do not despise these small beginnings, for the Lord rejoices to see the work begin" (Zechariah 4:10, NLT).

Tell us a little about yourself (yourselves).
One mom, four sisters. Five lives separated by distance, but connected in their hearts. Sharing passion, wisdom, love, faith, joy, and perspective on their lives. Growing Weisser: deep-rooted wisdom for growing families. The "tagline" for each of us on our blog will give you a quick summary of who we are . . .
Bekah — The baby of the family, she is creative in every way, she loves to give gifts, make crafts and make people feel loved and special, the Wii champion and professional shopper
Bethany — There always has to be a middle sister (let's just say unique one of the four) but she brings an energy and a free spirit to the bunch, loves competition, and is up for adventure
Jessica — The second sister, the loyal friend, great listener, super-mom, the runner, loves being able to bless others, have deep conversations, and share in experiences
Rachel — The oldest sister, the choreographer and designer, the brains behind everything that happens, the martial artist, recipe creator, the outgoing go-getter, and the inspiration
Kerry — The SUPERMOM of all moms, the I can do it all, there's nothing I can't do, the brains, the creativity, picture of generosity, the enthusiasm, best mom, best grandma, and the person all the girls aspire to be (written by my daughters)
To learn more about us, visit: http://www.growingweisser.com
When did this creative dream begin?
The girls and I have dreamed about having a family business ever since I can remember, but we could not settle on what it would be: cookbook/children's book/leadership training manuals/Bible study workbook publishing, (famous Weisser) chocolate chip cookie baking company, homemade wearable art/sewing/crafts of all kinds (retail sales), coffee shop/Christian bookstore/café (serving muffins, soups, salads, and other baked goodies), frozen yogurt shop, etc. For the four years while my youngest was in college, all the sisters lived within one hour of each other. They were very close growing up, and as young adults they continued to love spending time together and made it a priority. One year ago, both of my younger two daughters got married and moved far away from each other and from their other sisters who had been married for many years and had already started their families. Our creative dream of having a family blog was one way we could stay connected to one another, share our passions, and be an encouragement to one another. At the same time  we were brainstorming about our blog idea, we attended a blog conference and learned our idea could become a viable business. We had been praying for years about all our ideas and finally we decided we could develop a website lifestyle blog where we could share a little bit of all our passions and thus Growing Weisser was born this past April 2013.
How did this project/idea get started?
We started by developing a Google document we all shared for three months from January through the end of March. We each posted one time and week and read and edited each other's posts. We felt we wanted to have a voice, a way to share our lives with others, and be an influence. All of our husbands began reading our Google doc posts, and they all gave us the thumbs-up. When we realized we had support from our biggest cheerleaders, we secured some outside help for our graphic designs (a wonderful friend from my youngest daughter's Bible study) and our website development (my brother).
What makes your project stand out from the crowd?
Our project is dedicated to bringing glory to our Lord and Savior Jesus Christ.
Our website is a lifestyle blog sharing family wisdom, creative crafting wisdom, organizational tips, healthy recipes and cooking wisdom, spiritual wisdom and encouragement and tidbits of wisdom.
What are the goals and intentions of this project?
Our ultimate goal is to develop our website into a viable business that will generate income through various means and ultimately enable our daughters to be stay-at-home moms while they raise their families. Within the near future, we want to produce tangible products we can sell from our website, unite with like-minded bloggers who want to be affiliate members (selling one another's products on the members' websites), develop a sponsorship program, and sell ad space. We hope to begin to publish ebooks very soon with more of our ideas that we have not yet shared on our blog—cookbooks, children's books, leadership training manuals and Bible study devotionals and study tools. Eventually we would love to choose a few Christian ministries to support financially—allowing each of the girls to pick a ministry they are passionate about.
How does your project create community?
Right now we are developing community by encouraging comment streams, sharing our daily posts on Facebook and Pinterest, and a weekly email that goes out to subscribers. I eventually want to write a book and have many young moms I counsel who give me questions and topics they want to have answered. I try to incorporate what they want me to write about in my blog posts as I develop my book ideas.
Many have creative ideas but then have trouble following through with them. What advice would you give to creative types who start projects eagerly . . . but then enthusiasm drizzles off?
We are "stick with it until you finish" kind of gals, but we do have some tools in place to help one another follow through to accomplish our goals. Have accountability partners, prayer partners, or whatever you need to help you.
Describe the behind-the-scenes effort of your project. Where do the ideas come from? How many are involved in the process? Does each contributer have a specific role?
1. We do whatever it takes to stay organized. We pray a lot.
2. Using a Google doc to do a trial run of the "commitment necessary to maintain a blog" was a great idea.
3. We now post Monday through Friday so each one of us posts one day a week. Each day is a specific type of wisdom, and we cycle through the topics. (I fill in and post twice a week when any of the girls get overly busy with their family responsibilities.)
4. We have a shared Google calendar to keep everyone organized.
5. We have a vision and goals we write down.
6. We have a current to-do list (my brother/web developer).
7. All of our ideas are created by us. Sometimes we adapt an idea, but we give credit or reference our sources.
8. The five of us work together (plus my brother makes six), and we each have an additional role besides posting. Weekly newsletter, posting on Facebook and Pinterest, answering and approving comments, design development, web development, affiliate membership program, giveaway program in the near future, and hopefully someday a teleconference.
What's been the hardest part about getting it off the ground?
There are many behind-the-scenes aspects of business development that take time. I wish I had a deeper understanding and better skills in html coding, web development, graphic design, and website improvement. I am a passionate learner and dedicated student, but it takes time to master these skills.
What have you learned?
I have learned how amazingly talented and dedicated my girls are and how passionate they are about this project. I am thrilled every day to read about all they are learning and the ways they are being challenged in their faith. I have learned I love a challenge and I love learning. I definitely can't wait to help other people realize their dreams by utilizing our blog and our Growing Weisser community to help others.
Have there been any unexpected surprises?
I am surprised at how much time it takes to learn about resizing photographs for websites, indexing blog posts, and finding plug-ins that work for the specific things we want to do to make our website function efficiently and load quickly (like a print-recipe button).
What are the biggest misconceptions people have about starting your project?
People are often paralyzed by busyness, the tyranny of the urgent, the "what ifs," and the fear of failure. We decided if we were the only ones who enjoyed our blog, it would be worth if because it would knit our lives together and keep us connected when we live so far apart.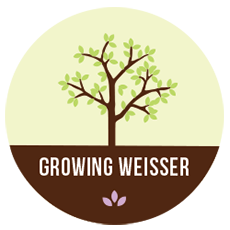 What are some ways you promote your project?
Right now, we are sharing with family and friends using business cards, a Facebook group, sharing our weekly newsletter by email, and word of mouth. We are beginning to establish a group of people (tribe) who we want to work with to support one another in our creative endeavors. We have friends who are starting businesses we would like to promote: graphic design, cake decorating, handmade designer fabric, handmade baby toys.
Creating something is one skill. Marketing and promoting it is an entirely different skill set. How has that gone for you? Shocked by the amount of work marketing takes? Or pleasantly surprised?
We have been focusing on our content and providing well-written blog posts that answer relevant questions and address topics that we can give advice about for the past five months. We are now ready to add a new focus of producing ebooks and other products we can sell. The feedback we have received from faithful readers is that they LOVE what we are doing. Now it is time to increase our readers so we can share our passions and influence.
Any marketing mistakes you would avoid?
Paying for a service like web.com to help track SEO and Google analytics before you are ready.
What social network has worked best for you?
Both Facebook and Pinterest are bringing new readers. We also post all of our recipes on My Recipe Magic, a new recipe website that provides nutritional information.
What advice would you give someone else who has a creative dream like yours?
You have nothing to lose, so just get started!!! You will be amazed at how fulfilling it is to realize a dream and see it becoming a reality. We all have an ability to influence, so follow your dreams.
Where do you see this project in five years?
My prayer and hope would be to continue with high-quality blog posts, have many creative things to sell from our website (ebooks, books, baby products, artistic products, etc.) my girls and I have created, promote and sell other peoples' products we support (affiliates), have fabulous sponsors and great advertisers, and to make enough money to enable my girls to be stay-at-home moms, and financially support awesome Christian ministries.
You often share in your posts about how Jesus has influenced your lives, what do I have to do to know your Jesus?
I would ask to begin a private dialogue by email or on the phone, and I would share my personal testimony and offer a simple explanation of the gospel according to the scriptures: Jesus lived and died, was resurrected and appeared to the disciples and many others. He ascended and sent the Holy Spirit to live within the hearts of men and women who are willing to accept the free gift of GRACE—God's sacrificial gift of His one and only son, Jesus, who died on the cross to forgive sins and anyone who believes this will be saved.
How can we find your creative dream come true?
Website
Facebook
Twitter
Pinterest
[Tweet "One mom, four sisters. See how they make their dream come true. @SuzanneWFisher @Growing_Weisser"]
Are you new here? You might want to subscribe to my email updates, or follow me on Facebook, Twitter, Pinterest, Google+, or Instagram.