Tune in on Thursday at 4:00 pm Central! To listen in – go here and just click on the player in the top right corner.


If you like to eat – don't miss this week's show. Sherry Gore will be filling in for me while I'm away at ACFW. She's invited two Amish Cooking experts, Georgia Varozza and Kevin Williams, to join her in a lively (and delicious) discussion about Amish Cooking!
You'll have a chance to win a cook book from all three guests. Leave a comment here for your chance to win. Winner will be notified next week via email.
Sherry Gore: Sherry Gore is the author of Taste of Pinecraft….Glimpses of Sarasota Florida's Amish Culture and Kitchens. She's a writer/food reviewer for the Pinecraft Pauper, Florida's first Amish newspaper, and a scribe for her community for the National Edition of The Budget. She co-hosted the Pinecraft Writer's Presentation in Florida with Professor Emeritus Richard Stevick, author of Growing up Amish; the Teenage Years.
She is a year-round resident in Sarasota, Florida, the vacation paradise of the Plain People, and is a member of a Beachy Amish Mennonite Church. She is currently chronicling the adventures of everyday life of the Plain people in Pinecraft for the second edition of Taste of Pinecraft, due to be released 2012.
This mother of three, and full-time caregiver of her twenty-year-old daughter, loves to swim in the Gulf of Mexico, as she attempts to combat her pathological fear of sharks. It is her life-long dream to ride in the Oscar Mayer Wiener Mobile.
She is the non-resistant owner of a double barrel shotgun with an affinity for pie. She learned the hard way one spring day not to wear Chap-stick while driving an open buggy behind a shedding horse. Find out more about Sherry at her website:
http://www.sherrygorebooks.com/
.
Georgia Varozza: Georgia Varozza, the author and general editor of The Homestyle Amish Kitchen Cookbook, has worked in the publishing field for more than 20 years as a journalist, editor, and writer. As a certified Master Food Preserver, she has taught many people in her community how to safely preserve their family's foods. Georgia's family comes from a Plain background, and many of the recipes she shares are
family favorites.
About her cookbook: The Homestyle Amish Kitchen Cookbook: Plainly Delicious Recipes from the Simple Life

Just about everyone is fascinated by the Amish—their simple, family-centered lifestyle, colorful quilts, and hearty, homemade meals. Straight from the heart of Amish country, this celebration of hearth and home will delight readers with the pleasures of the family table as they take a peek at the Amish way of life—a life filled with the self-reliance and peace of mind that many of us long for.
Readers will appreciate the scores of tasty, easy-to-prepare recipes such as Scrapple, Graham "Nuts" Cereal, Potato Rivvel Soup, Amish Dressing, and Snitz Pie. At the same time they'll learn a bit about the Amish, savor interesting tidbits from the "Amish Kitchen Wisdom" sections, find out just how much food it takes to feed the large number of folks attending preaching services, barn raisings, weddings, and work frolics, and much more.
The Homestyle Amish Kitchen Cookbook is filled with good, old-fashioned family meal ideas to help bring the simple life home!


More About Kevin: Kevin Williams is creator and editor of the syndicated column, The Amish Cook, written by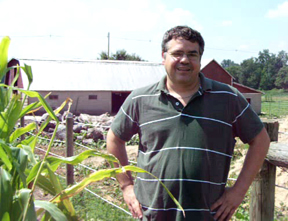 Lovina Eicher. The Amish Cook appears weekly in over 120 newspapers from coast to coast.
In 1991, Williams cooked up an idea for an Amish recipe column and convinced Old Order Amish grandmother Elizabeth Coblentz to write it. Today, The Amish Cooktradition lives on as Elizabeth's daughter, Lovina Eicher, continues to pen the column each week. Kevin is an author and speaker, sharing his experiences among the plain people. Kevin has co-authored 10 cookbooks, including the strong selling "Amish Cook at Home" and "The Amish Cook's Baking Book" (Los Angeles Weekly selected this book the best baking book of 2010).


More about The Amish Cook's Baking Book: For the Amish, baking is an art form, a pleasure, and a way of life. The emotion they bring to baking is at the heart of The Amish Cook's Baking Book. Together, celebrated Amish cook Lovina Eicher and her editor, Kevin Williams,
introduce a new generation to Amish baking.
This baking book is filled with 80 beautiful photographs and over 100 classic Amish recipes for sweets that have been handcrafted in Lovina Eicher's Amish kitchen. The Amish Cook's Baking Book includes the following chapters: Pies; Breads, Rolls, and Pastries; Cookies; Cakes; Bars 'n' Brownies; and Special-Occasion Baking. Home cooks get an extra treat with sidebars from Lovina's children as well as interesting insights into Amish life both inside and outside the kitchen.
"Baking is something my mother taught me, much like sewing and ironing, or gardening. Now, as a mother of eight children of my own, I am beginning to teach them how to bake. I have many cherished memories of baking throughout my life." –Lovina Eicher