Welcome to Author Spotlight! Each week will feature a different author. We'll get the scoop behind their writing life and dish a little. The authors will also be giving away a copy of their latest book. FUN.
The winner from last week's Author Spotlight with Ann Gabhart is Regina Merrick! Please email my assistant Amy with your mailing address. (amy@litfusegroup.com)
This week is Marta Perry is in the Spotlight! To win a copy of Marta's latest book, Sarah's Gift, leave a comment on this post!
Share a little bit about yourself. Married with kids? Empty nester? Do you work full-time and write when you can squeeze it in?
I'm married to my college sweetheart, and we have three grown kids who have presented us with six beautiful grandkids ranging in age from 3 to 10. I now write full time and love it, but there was a time when I worked part-time, raised kids, and wrote as well.
I've lived in rural Pennsylvania all my life, and my husband and I live in a century-and-a-half-old farmhouse on 25 acres in a pastoral Pennsylvania valley. When the snow flies, we escape to our second home on the South Carolina coast for a few months.
And share something about your writing. What's your genre(s), your areas of interest…
I currently write the Pleasant Valley Amish romance series for Berkley Books, as well as an Amish Suspense series for HQN Books and series books for Love Inspired. I enjoy both romance and romantic suspense, and bringing in the Amish element has been a natural step for me, since I'm Pennsylvania Dutch myself and have always lived around the Plain People.

How did you get started writing? Did you have a dream of being a published author?
When I was eight years old, I read my first Nancy Drew book, The Secret in the Old Clock. Most little girls read that and want to be Nancy Drew. I finished it and wanted to be the person who wrote that wonderful story! It took me a long time to pursue that dream, but eventually I realized that if God was leading me in that direction, I'd better follow!
After you started writing seriously–how long was it before you were published?
I started writing with short children's stories for Sunday School Take-Home papers. My first submission came back with a form rejection slip. I summoned up my courage and sent it out again—another form rejection, but this time a real live editor had taken the time to write on it, "Nice story. Try us again." I don't know who that person was, but I wish I could thank him or her. That comment encouraged me to send the story out again, and this time it sold! I received a check for $15, took my husband out to dinner, and announced that I was a writer!
Aside from a cup of good, strong coffee, what helps you get all of your "brain cylinders" firing so you can write well? Do you have any favorite places and routines when you write? How many hours a day do you spend writing?
I'm a tea drinker, so I'll have to skip the coffee part! I get up, breakfast and do twenty minutes of exercise, dress, and go to the computer. And the next day I do that over again. When I'm constantly involved in the story that way, I find it fairly easy to get back into it and get quickly to work. With my schedule, I don't have time to wait for inspiration—I start writing and trust that the inspiration will come. I try to do my new writing in the morning if at all possible, leaving the later hours for working on things like edits, blogs, interviews, etc.
What has been the biggest help to you in the journey to publication? Writers' conferences? Writing groups? Your mom as your first draft reader?
I started writing when there was no internet, few writers' conferences, fewer still writing groups. I didn't know another soul who wrote fiction! My education at that time consisted of reading every copy of Writer's Digest and The Writer, reading heavily in the genre I wanted to write, and writing every day. I love the easy access I have now to other writers, with support only a mouse-click away, but I know that it can be done without when necessary.
Is the "writer's life" what you thought it would be?
I still love writing, but I didn't realize that there would be so much 'business' to writing. In a way, those years before you sell are golden, because then you're writing only for the joy of it. It gets much more complicated when there are contracts involved, though I wouldn't trade it for any life I can imagine. If I won the lottery tomorrow (which is very unlikely, since I never buy a ticket!), I'd still go to the computer and start writing my pages for the day.
What are your biggest distractions?
My husband standing behind me while I'm typing, waiting for me to stop so he can ask me something. Just ask me, already!
What was one of the best moments in your career and what was one of the worst?
I'm not sure I can choose, because it keeps changing. As we progress through our careers, our goals continue to move out ahead of us, and I think that's how it should be.
What do you least like about being a writer? Most like?
I love creating the story—when it's still in my mind, it's perfect, but when I start putting it down on the page, it invariably falls short.
What is the role and importance of an agent?
I didn't have an agent during the years I wrote for Love Inspired, because I felt able to handle the category contracts on my own. When I was ready to market a longer series, however, I knew that I didn't want to venture into those deep waters without an advocate. And my agent is amazing!
What advice would you give to new writers?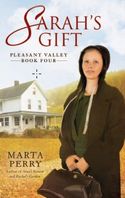 Read, read, read and write, write, write. There are no shortcuts, and all of us have to write a certain amount of dreck before we get down to the real stories that only we can tell.

Pretend I'm a customer at a bookstore looking for a good book. Give me a one or two sentence promo to convince me to buy your book.
Sarah's Gift: An Amish midwife faces the destruction of all that is most dear to her when an English doctor files charges against her.
What's on the book horizon for you?
I'm writing the third in the Amish suspense series, Judgment in Plain Sight; an e-book novella that will be on the Harlequin website in May, Lost in Plain Sight; and I'm starting work on the sixth book in the Pleasant Valley series.
Last question, how can readers find you and your books? Go to my website at www.martaperry.com; look for me at Marta Perry Books on Facebook; or write to me at marta@martaperry.com. If readers would like a signed bookmark and my brochure of Pennsylvania Dutch recipes, they should just send me their mailing addresses.
Thank you for sharing your writing life with my bleaders! (blog + readers = bleaders)